LIST OF CIRCLE OFFICE BEARERS OF AIBSNLEA,KTK BG.- 2016-19 (20/06/2016)

POST

NAME (Mr/Ms)

DESIGNATION

MOBILE

***************

**********************

**********

PRESIDENT

ULHAS  V GURAV

CAO BGTD

9449000234

VICE.PRESIDENT-I

VEERAPPA SHETTAR 

AGM BGTD

9449054848

VICE PRESIDENT-II

C H KULKARNI

SDE (E) BGTD

9449859896

CIRCLE SECRETARY

S.K HIREMATH 

AGM TM BGTD

9449850102

FINANCE SECRETARY

H.J. THULASI RAMAIAH

CAO CTSD

9449001990

AST.CIRCLE SECR-I

H KRISHNEGOWDA

AGM MYS

9449994466

AST.CIRCLE SECR-II

R.B.GUMAJA

SDE BM

9448010146

AST.CIRCLE SECR-III

SUDARSHAN PUJAR

SDE CKBL

9449856654

AST.CIRCLE SECR-IV

R S KULKARNI

SDE BJP

9449855108

CWC MEMBER-I

N.P.INAMDAR

CAO BM

9480598888

CWC MEMBER-II

M.G.NAIK

ADOL KWR

9449814312

CWC MEMBER-III

C A TARIKERI

SDE HBL

9449858345

CWC MEMBER-IV

R. L.MUDRABHAT

SDE HBL

9449858292

CWC MEMBER-V

M.M. KALEKHAN

SDE MYS

9448325786

AREA SECRETARY-I
BJP,BDR,GLB,RCR

M  PRABHUDORAI

SDE RCR

9449850588

AREA SECRETARY-II
BM,DK,HBL,HBL-STR, UK

G.G.BHAT

CAO KWR

9448530644

AREA SECRETARY-III
HSN,MDK,MDY,MYS

MANOHAR.S

JTO (CM) MYS

9449851051

AREA SECRETARY-IV
BL,CKG,DVG,SMO

PATIL KAREGOUD

DE STR DVG

9449855584

AREA SECRETARY-V
BGTD,CO,QA,BG STR,BG CM,KLR,TMR

HARISHA D.N.

SDE TMR

9449803377

AUDITOR

S.G.HEGDE

CAO  BGTD

9448144610
21/6/2016:- 6th KARNATAKA CIRCLE CONFERENCE HELD AT MYSURU-DETAILED REPORT.:- A huge gathered and well decorated 6th KCC of AIBSNLEA held at Auditorium, RTTC, Mysuru on 20/06/2016. 6th KCC started with invocation song sung by Com Kulkarni JTO. Com M R Nagaraj President presided over Conference and conducted the proceedings. Com B S Manjunatha DS AIBSNLEA Mysuru TD and Host District branch  welcomed the gathering. Two minutes silence was observed in respect of departed members. Self-introduction of delegates was conducted. Com H Y Andeli CS placed the Circle Secretary Report from 21/03/2014 to 19/06/2016. CS report is approved by the house. Com M K Banagar FS submitted the Finance Report. Finance report is approved by the house. Beloved Com P Venugopal  Ex. President, AIBSNLEA CHQ, Com B Sivakumar President, CHQ,  Dynamic and respected   Com Prahlad Rai GS, AIBSNLEA CHQ, Com B S Reddy AGS(Engg) CHQ . House congratulated Com Appalal J Chakoli Vice President-II and SDE QA BG & Com M S Srinivas Advisor (Genl-I) and DET,STP, Mysuru of Karnataka Circle for becoming and electing as CHQ Office bearers for term 2016-2019. Com Sunil Kumar DS Shivamogga, Com Sreekanth DS Bellary, Com Tamse DS Karwar, Com S K Hiremath DS BGTD, Com Hanamantappa B DS Davanagere Com Prabhu Dorai DS Raichur, Com Kantharajaiah DS Hassan, Com Manjappa DS DK, Com Srinivas Murthy DS Kolar, Com Bharat DS Tumkur , Com Musali DS Madikere ,Com Veershetty DS Bidar, Com M B Kulkarni DS Bijapur, Com Balachandra Damle DS CO BG, Com M C Nalwadad DS QA Circle Office BG, Com Shamaraj Athadkar DS Bengaluru, Com S S Patil DS STR Hubballi, Com Gomaj Dele BM. Com Ramegowda DS Manday ,Com B S Manjunath DS Mysuru,anamantappa B DS Davanagere and others have attended and submitted DS Report , shortage of  material list, and Field problems etc. All the 25 Districts have represented and participated in the deliberation.
AIBSNLEA Karnataka Circle felicitated Com P Venugopal Pres. AIBSNLEA CHQ, Com M R Nagaraj Pres. AIBSNLEA KTK, Com H Y Andeli CS AIBSNLEA KTK and Com B Ramachandra CWC Member on their retirement.
Com B S Reddy AGS(Engg) attended and addressed the gathering. He spoken that  It is bounded duty of each and every member of this Association to strive hard to get No. 1 position in the forthcoming referendum. Com B Sivakumar President CHQ spokes that under the dynamic leadership of Com Prahlad Rai  GS, we have achieved many things. He appealed the members to work hard for the enrolling membership.
Com P Venugopal Ex. President of AIBSNLEA CHQ attended and addressed conference and told that this is the only one Executives Association settling the issues of all the cadres.All members should work a very hard to get no. 1 position in referendum.
GS AIBSNLEA, Com. Prahlad Rai, congratulated the comrades of AIBSNLEA Karnataka Circle for the successful holding of 5th AIC at Mysuru  and thanked the comrades for their grand participation. He mentioned that Karnataka Circle is a very important Circle for AIBSNLEA as it stood No. 1 position . He mentioned that this Circle is a profit making Circle of BSNL due to the hard work of BSNL Executives? of BSNL. Com GS further mentioned that the past trend of the declining profit which was a serious concern for all of us has been gone over and the BSNL is now on the way of betterment. He told that this year also the operating profit is 2000 Crores. In-spite of the 55% of salary expenditure the company is running without taking any loan. In this regard we can say that BSNL is nor a sick company. BSNL is taking loan only for the capital expenditure. Com GS mentioned that all the dues of BSNL i.e. ADC charges etc should be cleared immediately by the Government for the smooth running of the 29000 BSNL Exchanges. Com. GS explained the role of AIBSNLEA in the view of viability of BSNL, which is the most important issue on this crucial juncture. Com. GS mentioned that due to the efforts of AIBSNLEA only, the leave encashment reserve fund has been created.
Com. GS explained the discriminatory attitude of the Government towards BSNL in the terms of Rural Expenditure, ADC Charges, Heavy BWA Spectrum Fee and notional loan of Rs 7500 Crores etc. Com GS appraised the house about the Sam. G. Pitroda, Committee recommendation and the views of the Trade Unions/Associations in the same. Com. GS demanded for issue of whitepaper on the same i.e. on the VRS, Un-bundling of last mile copper etc. Com GS further explained that how the AIBSNLEA is continuously pursuing these viability related issue with the BSNL Management and DoT. He appreciated the efforts of J&K Circle Executives for taking initiative to taken initiative to make it a profit making Circle.
Com GS further explained the status of HR issues related to mainly recent DPCs from 700 DEs to DGM. He also explained the status of DPCs of SDE to DE (Regular), JTO to SDE, JTO to SDE by LDCE, JAO to AO, AO to CAO, CAO (Adhoc) to CAO (regular), CAO to DGM (F), DPC in Civil/Electrical wing, Restructuring of AD(OL) case, DPCs of Telecom Factory and the issues of PA/PS, JTO (Officiating) regularization, PPS posts creation in field units and Sr PPS post creation in BSNL CO etc. Com GS further explained the status of the pending issues of the BSNL pensioners like withdrawal of 60:40 , IDA pension revision on 3rd PRC, CGHS facility to BSNL pensioners, ERP help to BSNL pensioners etc. in detail. All leaders have appreciated and saluted comrades of Mysuru for excellent arrangement,
House was unanimously passed the resolution that "Comrades of Mysuru lead by Com H Krishnegowda and his team has done very very excellent job in arranging 5th  AIC and 6th  KCC at Mysuru in very grand manner. House Express its gratitude and thanks to Comrades of Mysuru."
Vote of Thanks given by Com R S Kulkarni ACS.
Com P Venugopal Ex. President AIBSNLEA CHQ conducted the Election. The Following have been unanimously elected as Circle Office bearers of AIBSNLEA KARNATAKA Circle for 3 years  term 2016-19.
 Com Ulhas V Gaurav CAO BGTD ( Cell no. 9449000234 )
 as Circle President, Com Shashidar K Hiremath AGM,BGTD (Cell No. 9449850102) as Circle Secretary, Com H J Thulasi Ramaiah CAO CTSD ( Cell no. 9449001990 ) as FS were unanimously elected as  Circle office bearers for the term 2016-19. Click here for Circle Office bearers List.
Click here for Glimpses.
<<<Click here for the Message of Host Circle to the Participants / Delegates attending 5th AIC of AIBSNLEA at Senate Bhavan, University of Mysuru, Manasa Gangothri, Chamraja Mohalla, Mysuru - 570008 (Karnataka)>>>>
<<<<<Click here for time table of trains at Mysuru>>>>>
9/06/2016:- CONGRATS!!!!!. :-
<![if !vml]><![endif]>

Ms Varsha R Naik Daughter  of

Com  R S Naik AGM(LA) BGTD and active member of our Association was felicitated with Gold Medal for topping Bengaluru University in

E & C by the Hon'ble Governor of Karnataka. AIBSNLEA feel proud to congratulate & wishes her a great success in future.
7/06/2016:- AIBSNLEA WELCOMES NEW GM(HR/ADMN):- Com S K Hirmath ACS(HQ),Com M K Banagar FS, Com S B Balaraddiyavar CWC member and Com Balachandra Damle DS CO BG greeted and welcomed new GM(HR/ADMN) Shri Ashok K  Agarwal by presenting bouquet. Click here for glimpses.
7/06/2016:- SPL CL for attending  6th KCC at Mysuru granted by CGM,STR, CHENNAI:- Click here for 6KCC
1/06/2016:- APPEAL:- 1.) Hardly 10 days left for Conference, Advertisements for souvenir  and Donations were not received what we have expected from the  Districts/Divisions. Once again we request you to collect Advertisements /Donations as much as possible on war footing.
2.) Kindly send delegates list or 5th AIC and 6th KCC at Mysuru to me: andelihy@gmail.com as early as possible
3.) Posters have been despatched. Kindly acknowledge the receipt of poster. Kindly start pasting of poster to the Notice Board, Entrance gate, near canteen, important places, xges, admn buildings etc in all SDCA hqs and give wide publicity.
1/06/2016:- SPL CL for attending 5th AIC and 6th KCC at Mysuru granted by CGM,KTK Bengaluru:- Click here for 5AIC,   6KCC
1/06/2016:- MEETING WITH CGM,KTK :- CS, ACS(HQ), CS & President of AIGETOA KTK CIRCLE met CGM, KTK , We thanked CGM,KTK for approving 62 cases of Rule-8 transfers, reliving 3 JTOs of MP. We have requested to  relive AP Rule-8 cases(Consent received from AP Circle) and discussed as follows.  RULE-8 transfers, Reliving of JTOs who transferred under intra Circle transfer . Protested for modification of posting orders in SDEs by violating transfer policy and un ethical way. This will be heartburn to SDEs who have obeyed the order sincerely. We have requested  to correct the mistakes done by Circle Admn. CGM assures to look into.
 01/06/2016 :- RETIREMENT OF FOLLOWING EXECUTIVES ON SUPERANNUATIONS W.E.F. 31/05/2016 A/N . WE WISH THEM VERY HAPPY & PEACEFUL RETIRED LIFE.
SL NO.

NAME OF THE EXECUTIVE (S/SHRI.)

DESG.

UNIT WORKING

01.

H ANANTHASUBRAMANIAN

DGM

MS BG

02.    

A M NAGARAJU

DGM

BG TD

03.

S N BADAVADAGI

DGM

BG TD

04.

A G SANKESHWARI

DGM

BM TD

05.

M L KESHAVAN

DGM

BG TD

06.

M LAKSHMINARAYANASWAMY

DGM

MY TD

07.

SHANTHARAJ

DGM

TMK TD

08.

NAGARAJ V HULGI

DGM

BM TD

09.

RAVINDRANATH

DP AIBSNLEA MYTD

DGM

MS MY

10.    

R R KOPPAR

DGM

HBL TD

11.

T VEERANNA

DGM

GLB TD

12.

T R BHANDARI

DGM

KWR TD

13.

C M WADAWADAGI

DGM

CO BG

14.

M G SHREEDHAR

DGM (F) ERP

CO BG

15.

G SATYANARAYANA

DGM(LA)

TMK TD

16.

H B NADAF

AGM

BG TD

17.

R JAGANNATH

AGM

MS BG

18.    

T KOTRESY

AGM

MS BG

19.

BABURAO WADEYAR

AGM

BM TD

20.

N LAKSMIKANTHA

AGM

BG TD

21.

S S SAJJANAR

AGM

BJP TD

22.

D NAGESH RAO

AGM

MS BG

23.

S M ELADAGI

AGM

BJP TD

24.

R T NAIK

AGM

KWR TD

25

A JANARDHAN GOWDA

CAO

MDK TD

26

D C PANCHAKSHARAPPA

CAO

BG TD

27.

T V NAIK

SDE

KWR TD

28.    

N K PATIL

SDE

CO BG

29.    

T CHAVADAREDDI

SDE

BM TD

30.

ALBENIA TERASA VAZ

SDE

BG TD

31.

K V RAJARAO

SDE

BG TD

32.

RUDRAPPA

EX. DS AIBSNLEA QA D'NAGAR

SDE

BG TD

33.

H N USHA

SDE

BG TD

34.

T N SRINIVASA

SDE

HSN TD

35.

M RATNAMMA

SDE

MND TD

36.

MALLAPPA KARJOL

SDE

MS BG

37.

PUSHPALATA

PS

MR TD

38.

H G GODEKAR

AO(LA)

BJP TD

39.

J A SREEHARSHA

JAO

MY TD
31/05/2016:- AWARENESS GATE MEETING HELD IN BENGALURU & HQs OF SSAs:- In Bengaluru Awareness gate meeting was held on 31/05/2016 at Circle Office and NOC , Bengaluru east xge and all HQs of SSAs. In Bengaluru, CS, ACS(HQ), CS & President of AIGETOA KTK CIRCLE have addressed large gathering. We have explained in detail about development taken in CHQ to achieve historical struggle and also how overcome the anti-forces who wanted to stall struggle. All the members appreciated and congratulated the CHQ leaders by clapping.
Magnificent struggle of United Forum :- Awareness Gate Meeting on 31st May 2016 ( Tuesday) during lunch hour :- Kindly hold the gate meeting in all the HQs of SSAs and Circle Office, Bengaluru on  31st May 2016 during lunch hour to explain achievements & success of agitational programme
Magnificent struggle of United Forum
Well Friends!!! United Forum will not comment on who is doing agitation through Website and who is doing on the ground. It is for the members to compare whethersitting on three days Hunger Fast is real agitation or converting one day Dharna into lunch hour demo and the lunch hour lasting for five minutes is real agitation. We will also not comment on the organizational ethics of the so called association who has been doing everything to derail the settlement of issues and running every nuke and corner to stop management from settling the demands of the United Forum. We also won't comment on why it took ten days for them to publish the issues on their website as according to them everything was settled on 17th itself. Perhaps they were waiting for the final settlement with United Forum to claim the credit thereafter. Perhaps they think that members are fools and they will buy their wizard logics and unnecessary tantrums.However, we still request members to concentrate on the larger cause as indulging into unnecessary mudslinging will deviate us from our real goal. We request members to ignore the child like tantrums of the great warriors and concentrate on their work whole heartedly to overcome the losses which may have happened owing to the resentment of the executives.
The magnificent struggle of united forum of AIBSNLEA & AIGETOA and its achievements has paved the way for the settlement of the long pending HR issues of BSNL executives and has proved the strength and importance of executives before management.
All the organisational actions i.e. demonstration, one day Dharna on 13.5.2016, day long hunger fast for three days on 25, 26, 27 may 2016 have been successfully implemented throughout the country. During the agitation, several meetings were held with BSNL management. On 13th May, CMD called the General Secretaries of all the three Associations wherein date for the meeting was fixed as 19th May 2016 with all the three General Secretaries together. However, the GS of the friendly association held the meeting on 17th only for the reasons known to all as he was not willing to wait till 19thMay 2016. In the meeting on 19th May, Detailed discussion with CMD BSNL took place on the main issues of Standard Pay Scales, Implementation of CPSU Hierarchy, Abolishing of MT and DGM RRs, Implementation of 30% Superannuation to all DRs, conduction of CPCs, Declaration of LDCE results, consideration of Rule -8 cases and holding of recruitment drive in tenure and shortfall circles etc. Director (HR) & other HR Officers were also present in the meeting.
On the Pay scale issue, we demanded replacement of scales with promotions as per existing EPP. We explained to CMD BSNL that keeping one executive in E3 scales for 10 years just to offshoot his gain in lower scale is not at all justified. Earlier CMD was having some doubts about the demand because of wrong feeding from some corners but after listening to our arguments and submissions, CMD BSNL was convinced that whatever we are pleading is correct and keeping an executive in a scale for 10 years should not be done. He immediately directed for implementing our proposal. Establishment cell pointed out that if the proposal of United Forum is implemented, there may be lot of anomalies which can be difficult to settle afterwards. CMD BSNL told that whatever we are pleading is logical and asked what will happen if the scales are upgraded for all executives. Establishment cell pointed out that group B executive will reach E7 scales while as per EPP they can be promoted up to E6 only. Establishment cell also informed that there shall be huge financial implication on implementing this proposal. Establishment cell also pointed that with replacement of scales for all executives, there won't be any anomalies. CMD BSNL told them that when executive are getting some benefit out of refusal by government, to snatch that benefit from executives is not good and BSNL should bear the expenses occurring as an outcome of refusal by government to implement E1A and E2A. We asked from CMD BSNL that whether the proposal which is resulting in huge financial implications can be implemented. He assured that he will get the proposal through as the financial burden is out of pension liability and the Amount will any how go to the government only.
We also highlighted that as per current practice, the amount of pension contribution on highest basic is being paid only when the person retires and hence the burden is not immediate. However, we will go by management decisions but only thing that should be kept in mind is that replacement of E1A and E2A with E2 and E3 scales are immediate necessity as the executives joining after 1.1.2007 are facing losses in their salary and that an executive should not be made to remain in E3 scale for 10 years just because he has achieved E2 scale five years before his/her seniors. CMD BSNL again reassured that an Executive will not be kept in any scale for 10 years and he is willing to upgrade all the scales to avoid anomalies.
On the issue of implementation of KHAN COMMITTEE REPORT ON CPSU Hierarchy, CMD BSNL said that since the committee has proposed that executives may be given time bound functional promotion up to the scale of AGMs and in the DGM scale as Jt. DGM, management does not have any issue over it and the same shall be implemented as per KHAN COMMITTEE RECOMMENDATIONS. On extending superannuation benefit, it was agreed that the quantum will be reconsidered after approval from DoT and the date of implementation shall also be reviewed with increasing financial performance by BSNL. On DGM RRs and the ongoing DGM recruitment, it was agreed that the same will be scrapped. On MT RR, Though the United Forum once again emphasized that they are against any lateral recruitment of fresher's above JTO/JAO Equivalent, Director (HR) advised that keeping in view, the demand of other stake holders, the issue of scrapping of MT RRs may be dealt after the membership verification/referendum process of the Executive Associations and the view of the majority association shall be taken into consideration. Till that time MT recruitment shall be kept on hold. We agreed to the proposal as the action was to be taken by considering the view of the majority and if majority wants MT to be scrapped, it will be scrapped, if majority wants MT to be held, it will be held. CMD BSNL also directed HR team to take all necessary actions to expedite the CPCs and LDCE by engaging senior lawyers. On Rule-8 cases and special recruitment drive for hard tenure/short fall circles and other issues enumerated in agenda, a meeting was fixed with Director (HR) on 23rd May 2016. On 23rd May, the meeting was held with Director (HR) which continued on 24th May also where in all the demands of united forum were discussed in detail and the decisions were taken with a firm time line for implementation of the same with due commitment from all the HR Unit officers to adhere to the timelines. On 24th May 2016 evening, the meeting continued till 9:30 pm and after the decisions, the letter containing minutes of the meetings with decisions & firm timelines were prepared which was to be taken to CMD BSNL for approval. Hence, director (HR) advised us to wait in her office, while the minutes were discussed with CMD. About 10 pm GM (SR) returned after discussing with CMD BSNL and informed us that some corrections are required in the minutes of E-2 and E-3 pay scale. After corrections, we saw that there was ambiguity on the issue of number of years for the executives in E3 scale and requested to correct the letter accordingly. GM (SR) tried to contact Director (HR) but could not get her on telephone. Finally GM (SR) told that next morning of 25th May 2016, he shall discuss the matter with director (HR) and will inform us to release the decisions communicated in the meeting. ( All this while, the friendly association was on toes, running here and there to derail all these developments).However, on the inaction of the SR section to address the issue of keeping executives in E3 scale for 10 years next morning as there was no communication, we were forced to start Hunger Fast. In the evening, however, under pressure from some overzealous corners that didn't bothered about the resolution of the issues just for the sake of credit, SR cell notified referendum and enforced code of conduct which acted as a tool for the friendly association in their quest for sabotaging the agitation and settlement of issues. On 26-5-2016 afternoon at 2.30PM, GM SR informed to attend meeting with Dir HR at 3.30pm. Dir HR in the meeting told that the minutes prepared till now can't be issued as the notification of Executive Association has been issued and management has to maintain a level playing field. We told Director (HR) that notifying referendum was not called for at this time when the settlement of burning HR issues should have been the prime agenda. We asked if they can't communicate the decisions then they should take action on ground as HR team will not sit idle till referendum and whether all the transfer postings are also going to be put on hold. We firmly emphasized that till clarity is not brought on the issue of keeping executives in E3 scales for how many years, we are not going to withdraw. We met CMD BSNL also and apprised him about the developments.CMD assured us to discuss the matter with Dir HR and Sr. GM legal. On 27-5-2016 again Dir (HR) called us and informed that as per legal advice, now decisions cannot be communicated formally, however they will issue a general letter stating that timelines committed with the association and decisions taken in the meeting shall be adhered to. Thereafter Director HR, issued the appeal stating that the timelines committed to the association shall be adhered to issues shall be resolved in a time bound manner.
Thereafter, in meeting with CMD BSNL, We again requested to bring clarity on the issue of number of years in which an executive shall be kept in E3 scale. After that, in another meeting with Director (HR) was held at 19:00 hours wherein she informed that CMD has approved the proposal to replace the scales of E1A with E2 and E2A with E3 and thereafter E3 to E4, E4 to E5,E5 to E6 and E6 toE7 with promotion from one grade to another in a span of Five years and no executive shall be kept in E3 scale for 10 years.When our continuous demand to not to keep executives in E3 scale for 10 years was agreed, we decided to defer our agitation.
Friends, a lot of talk has been made from the overzealous quarters about the organizational action program of United Forum and we have been able to protect the interest of the executives despite consistent hobnobbing and hand in gloves approach of the vested interests. We promise that we will keep on doing that.
Now going through their website, it appears that on CPSU hierarchy also, they are singing the tune of the management by showing different approach from that captured in KHAN COMMITTEE REPORT. However, their actual intent will be known only when the management finalizes the proposal. But that should not be a reason to worry, as we are maintaining a strict vigil and any detrimental activity which harms the interests of the executives shall be dealt with accordingly.
Just Remember – Together We Can…Together We Have…Together We Will.
28/05/2016:-SAD DEMISE. :- It is regret to inform that  Shri.N H Kulkarni ADOL Hubballi (age 58 yrs) is passed away today i.e 28/05/2016 due to heart attack  after completion of Chardham yatra on the way to Haridwar (Uttarkhand) . We pray in god to give strength to the bereaved family to overcome tragedy and rest his soul in peace.
28/05/2016:-SAD DEMISE. :- It is regret to inform that  Shri. K P Desai Retd. AGM, Circle Office, Bengaluru and Ex. DS AIBSNLEA Bijapur is passed away today i.e 28/05/2016 due to Brain related problem . We pray in god to give strength to the bereaved family and rest his soul in peace.
27/05/2016:-GREAT ACHIVENT: CONGRATS!!!!!. HATS OFF FOR OVERWHELMING SUPPORT to AGITATIONAL PROGRAMME :- Strike deferred, Congrats! Hats Off , UF KTK sincerely thank comrades of KTK for showing overwhelming support by 100% participation in 3rd day hunger fast throughout Circle and winning the battle.
27/05/2016:- CONGRATULATIONS TO STAFF & EXECUTIVES OF FTTH:-
| | |
| --- | --- |
| <![if !vml]><![endif]> | <![if !vml]><![endif]> |
Com H Y Andeli, CS, and Com S K Hiremath ACS(HQ), AIBSNLEA KTK , Com Sundar Raju CS, Com Ashok Shigli CP of AIGETOA KTK met CGM,KTK and  congratulated him for getting first prize in providing highest FTTH Connections from Shri J S Deepak, Secretary, DOT. We extend our sincere thanks to Shri P Nagaraju,CGM, KTK, Sri R Mani PGM,BGTD, Shri Jaradhan Rao, Sr.GM, Shri Puranik Ex. DGM, Shri D Shanabhag DGM, Shri Keni SDE , Shri kamal Hassan JTO and the staff & Executives of FTTH for getting 1st Prize and making us to be proud.
27/05/2016:- CONGRATS!!!!!. :-
| | |
| --- | --- |
| <![if !vml]><![endif]> | Mr Prajwal Gargesh Son of Com Mruthyunjayakumar SDE Project Vijay Mysuru and active member of our Association has become topper in II PUC scoring 590/600 in Science. AIBSNLEA feel proud to congratulate & wishes him a great success in future. |
27/05/2016:-SAD DEMISE. :- It is painful to inform that  Sri. S.L. Ramachandraiah ADS, AIBSNLEA KolarTD & SDE Sidlagatta, is passed away today due to heart attack. The body is being taken to Gandhinagar village, Mathigatta post, Chickanayakanahalli taluk, Tumkur Dist to pay finalrights.Route:15kms.from Tipatur. We pray in god to give strength to the bereaved family and rest soul in peace.
<![if !vml]>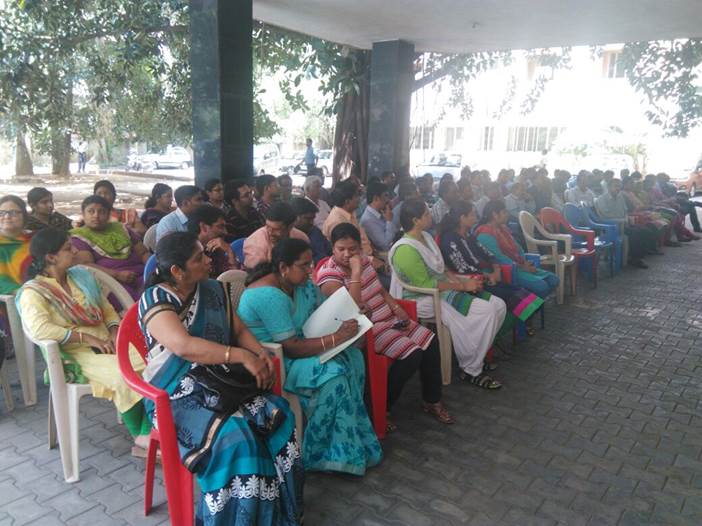 <![endif]>
GLIMPSES OF 2ND DAY HUNGER FAST HELD AT CIRCLE OFFICE, BENGALURU ON 26/05/20016.
26/05/2016:- 2ND DAY RELAY HUNGER FAST IN KARNATAKA CIRLCE – A GRAND SUCCESS. :- We sincerely thank Members for showing overwhelming support by 100% participation in hunger fast throughout Karnataka circle. Talks with management are inconclusive. BSNL Management is not serious about demands. Do or Die situation.
So, Kindly make 3rd Day hunger fast a grand success by 100% participation. Implement sincerely WORK-ACCORDING-To Rule programme.
CHQ NEWS;- 26.05.2016: <![if !vml]>

<![endif]> United Forum of AIBSNLEA and AIGETOA extends & records sincere thanks for making the Hunger Fast 100 % successful through out the country on 2nd day also.
Today Director (HR) called the leaders of United Forum for a meeting at 15.30 Hrs. The meeting was attended by GS, President, FS and AGS (HQ) of AIBSNLEA along with the President, AGS, and OS of AIGETOA. The meeting continued till 20.30 Hrs. Discussions were held in a positive environment but remained inconclusive. The talks will continue tomorrow morning.
All the Circle/Branch Secretaries are requested to keep the enthuisim and zeal to fight the ill motive of some sect of Managemnt and negative forces. Please ensure grand success of the Hunger Fast programme on its third day also.The negative forces are to be given a befitting reply. No body and No body can derail the issues which have been brought to the conclusive end after continuous and sustained struggle of United Forum of AIBSNLEA and AIGETOA. Just remain united and keep the momentum on.
 CHQ NEWS :-_ United Forum of AIBSNLEA and AIGETOA extends & records sincere thanks for making the Hunger Fast 100 % successful throughout the country on 1st day.
Fight against the neglecting attitude of BSNL Management and defeat the conspiracy.
Flare up the Agitation.
Implement sincerely "Work According to Rule" program.
Book your tickets.
Ensure your presence at Delhi on 01.06.2016.
Implement "DELHI CHALO" Program.
25/05/2016:- FIRST DAY RELAY HUNGER FAST IN KARNATAKA CIRLCE – A GRAND SUCCESS. :- We sincerely thank comrades of both the Associations for attending first day relay hunger Fast in large number. We appeal to all the members to participate 100% in hunger fast i.e 26th  & 27th May 2016. Implement sincerely WORK-ACCORDING-To Rule programme. BSNL Management is not serious about demands. Do or Die situation. Kindly Make hunger Fast programme a grand success.
UF (AIBSNLEA & AIGETOA)  CALL :- HOLD 3 DAYs HUNGER FAST ON 25th , 26th  & 27th May 2016 & WORK ACCORDING TO RULE W.E.F 25/05/2016 :
An appeal to the Executive fraternity!For Immediate implementation of the decisions taken in the meeting held on 14.12.2015 issued vide minutes of the meeting through letter no. BSNL/7-3/SR/2015 dated 14.12.2015 i.e.

1. Immediate implementation of the recommendation of the committee headed by Sh. M. A. Khan, ED (NB) on standard E2 & E3 scales for JTO & SDE Equivalent executives and CPSU Cadre Hierarchy in BSNL, scrapping of the MT, DGM RRs altogether.
2. Extending 30% Superannuation benefit to the BSNL recruited employees.
3. Resolution of various other long pending HR issues like taking urgent necessary action for:
a. Immediate conduction of various CPCs in all the disciplines to fill up the vacant Group-'A' and Group-'B' equivalent posts in a time bound manner, notional pay fixation of all upgraded pay-scales w.e.f. 01.10.2000, one time relaxation to Steno Grade-III for their promotion to PA cadre, settlement of Pay Anomaly cases where junior executives are drawing more pay than senior executives, special recruitment drive for hard tenure/shortfall circles, FR 22(I)a(i) pay fixation to officiating JTOs, restructuring of AD (OL) cadres, finalization of new SDE RR 2014 in line with association suggestions.
b. Settlement of Rule-8 transfer cases, Pay loss to JTOs/JAOs recruited after 01.01.2007 and fixation of pay in respect of departmental outsider (TTA) appointed as JTOs, extension of E1+ 5 advance increment benefit to JTO (SRD)/JAO 2013 batch, PA Cadre and diversion of 50% MT Quota CAO Posts to seniority quota and other long pending HR issues submitted earlier

Hold Three days "Hunger Fast" at Circle/SSA Head Quarters on 25th , 26th and 27th May 2016 (10:00 Hours to 18:00 Hours).
"Work According to Rules" with effect from 25th May 2016 (10:00 Hours) till the settlement of demands.

1st June 2016 onwards - "Delhi Chalo" for Indefinite Dharna at BSNL CO. The executives throughout the country will gather at BSNL CO, New Delhi till withdrawal of the MT Notification and settlement of various HR issues. During this period, there will be complete non-cooperation with management.
Defeat the conspiracy to deny the Executives of their legitimate rights
Click here for Slogans.
24/05/2016:- MEETING WITH PGM(HR/ADMN):- Com H Y Andeli, CS, Com Sunder Raju CS, Com Ashok Shigli CP of AIGETOA KTK  met PGM(HR/Admn). DGM(HR/Admn) was also present in the meeting. We sincerely thank CGM and PGM for consideration modification of posting order in the cadre of DGM,AGM, SDE
Letter addressed to CGM,KTK is given below.
 R/ Sir, We have discussed below mentioned issues in many meetings, But ,Circle Admin was not serious to resolve these issues. Members of both Association are very much frustrated. So We once again request you to settle these issues as early as possible to avoid industrial unrest.
1)  Intra circle transfer:  Intra Circle transfers of JTOs were ordered in Karnataka circle without following any guidelines or rules and also by not following waiting list. Especially IMPCS of Karnataka circle is having excess staff at different SSAs location like Belgaum, Raichur, Hassan etc, but their requests were not considered. SSAs which are facing shortage of staff may be filled as per the guidelines issued by Corporate office.
2) Cancellation of Temporary Deputations: Many Temporary deputations were done to Mobile service and Circle office which is creating unrest in the minds of young JTO/SDE's which affects the over-all performance of the Karnataka Circle. We request you to cancel all the Temporary deputations and Consider  all intra circle transfer cases  in Karnataka circle.
3) Reliving of SDEs/JTOs: Request transfer order was issued by Circle office dated 6th May 2016 and 18th May 2016 but SSAs are not reliving the officials from their SSAs, we request you to relieved those officers in ERP.
4) Forwarding of Request Transfer applications: Request transfer Applications are not forwarded by Karnataka circle to Non recruiting circle like STR,STP. Also Belgaum SSA is not forwarding the Request transfer applications of JTOs to circle office since four years. We request you to instruct the concerned units to forward pending applications immediately.
5) Implementation of EPF coverage for pre induction training period: Kindly arrange to Credit  Training Period EPF amount of BSNL recruited employees with Interest as per corporate office letter no 500-85/CA-II/BSNL/EPF/2014-15/Vol.VI dated 05-08-2015.
6) Refund of Security deposit: Refund of security deposit is not done to several JTOs who have completed 5 Years of service in Karnataka circle, Kindly instruct the concerned unit to expedite  process..
7) Rule-08: In several meetings it was assured that Rule-08 waiting list will be published in Intranet site, but till date it is not published, so once again we request you to publish waiting list of Rule-08 in Karnataka intranet site.
The above said issues were discussed in detail. We have got very good positive response from PGM.PGM assuered us the issues will be resolved as early possible.
BI-ENNIAL GB MEETING OF STR BENGALURU HELD ON  20/05/2016:-  Biennial GB meeting of STR Bengaluru branch was  held  at 1.00 PM on Friday ,20/05/2016 at Conference Hall, 5th Floor, NTB Bengaluru. Com G Narasimha Rao AGM President presided over the function and conducted the proceedings. Com Dr. C M B Kodlekere DS welcomed the guests by presenting flower bouquet and also welcomed the gathering. Com Dr. C M B Kodlekere DS presented District report and passed by the house. Com R Ramakrishna FS has submitted Finance Report and passed by the House. Com M R Nagaraj CP and Com H Y Andeli CS have been felicitated on their retirement as DGMs.CS & CP addressed the gathering on the latest development in  KTK, CHQ level and holding of 5th AIC and 6th KCC at Mysuru etc.. CP & CS replied the queries raised by Members to their satisfaction. Com R Ramakrishna Ex. FS  gave a vote of thanks. Com G Narasimha Rao AGM as President, Com Shamraj Athadkar SDE (Cell No. 9449082666) as Division Secretary, Com Ramanna JTO as FS were unanimously elected as office bearers for the term 2016-18.